40" @resize.window="activeMegaMenu = 0" >
15.07.2021
New opening: SchokoLaden chocolate shop and Café Stella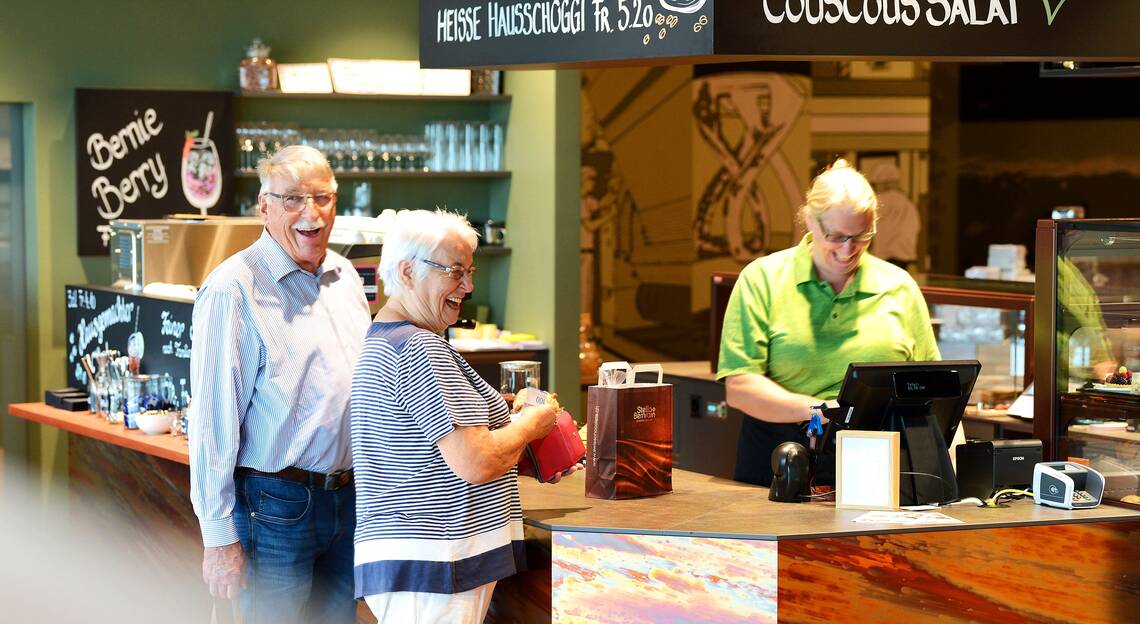 The new chocolate experience at Chocolat Stella Bernrain. The SchokoLaden chocolate shop in Kreuzlingen is full of the finest and most tempting chocolate specialities.
New opening: SchokoLaden chocolate shop
Chocolat Stella Bernrain has created a new chocolate experience. The SchokoLaden chocolate shop, which is part of Café Stella in Kreuzlingen, attracts customers with a huge selection of chocolate specialities, unusual creations and gifts for every taste and budget, including chocolate bars, delicious pralines and seasonal specialities. Informative animated visual wall projections also invite visitors to discover and experience something new.
SchokoLaden chocolate shop
Covering an area of 300 square metres, the new factory shop opens up an impressive shopping experience with lots to discover for big and small chocolate fans alike, offering the most delicious chocolate creations from the on-site production facility, interesting background information and the opportunity to have a go at being a chocolatier yourself.
Visitors who mainly want to shop will quickly find what they are looking for. They will be in chocolate heaven with the amazing range of chocolate products on offer: classic bars of chocolate, personalised selections of the finest chocolate truffles, exquisite raw ingredients at the "unpackaged" counter, seasonal products such as Easter bunnies or Christmas gifts and treats, vegan products, bargains and much more.
Mould your own chocolate
You may want to allow a little more time to make the most of the SchokoLaden chocolate shop's unique offerings. Along with the great range on offer, there are also many exciting things to experience and discover. If you're feeling creative, you can take the chance to mould your own organic chocolate and decorate it with ingredients of your choice. The visitor room provides a fascinating insight into the chocolate production process and the animated walls stretching around the spacious shop show what it takes to go from cocoa bean to chocolate bar. This is fantastic for families with children who may want to allow longer for their visit. The little ones will be kept busy and entertained in the play corner created especially for them.
Café Stella
All this shopping, looking around and marvelling at the delicious chocolate can be quite exhausting. Why not enjoy a well-earned break in Café Stella? It's the perfect place to unwind, have a drink and sample our culinary delights. The café complements the shop and chocolate experience perfectly. And that's not all: Café Stella is a popular café among the locals and is just as much a favourite eatery for nearby residents and professionals as it is for day-trippers and families with children.
Whether you're looking for breakfast, a midday snack or an after-work drink, Café Stella's healthy gastronomic offering has something for everyone, whatever their tastes. In keeping with the philosophy of Chocolat Stella Bernrain, the brand's café serves up a balanced mix of tradition and modern cuisine featuring both time-honoured and contemporary flavours.
Organic, vegetarian and Fair Trade products are all essential components of the range of food and drinks on offer to guests, all of which are easy to decipher on the clearly designed menu. Among the hot and cold meals and snacks available are breads, salads, pastries, biscuits, cakes and tarts, as well as a selection of jarred treats. Many of the delicious, home-made dishes are suitable for take-away. The drinks menu features energising coffee, tea and chocolate specialities, as well as non-alcoholic and alcoholic beverages. The hot chocolate made with chocolate from Stella Bernrain is particularly tempting.
For more information see