40" @resize.window="activeMegaMenu = 0" >
13.09.2021
New building in Kreuzlingen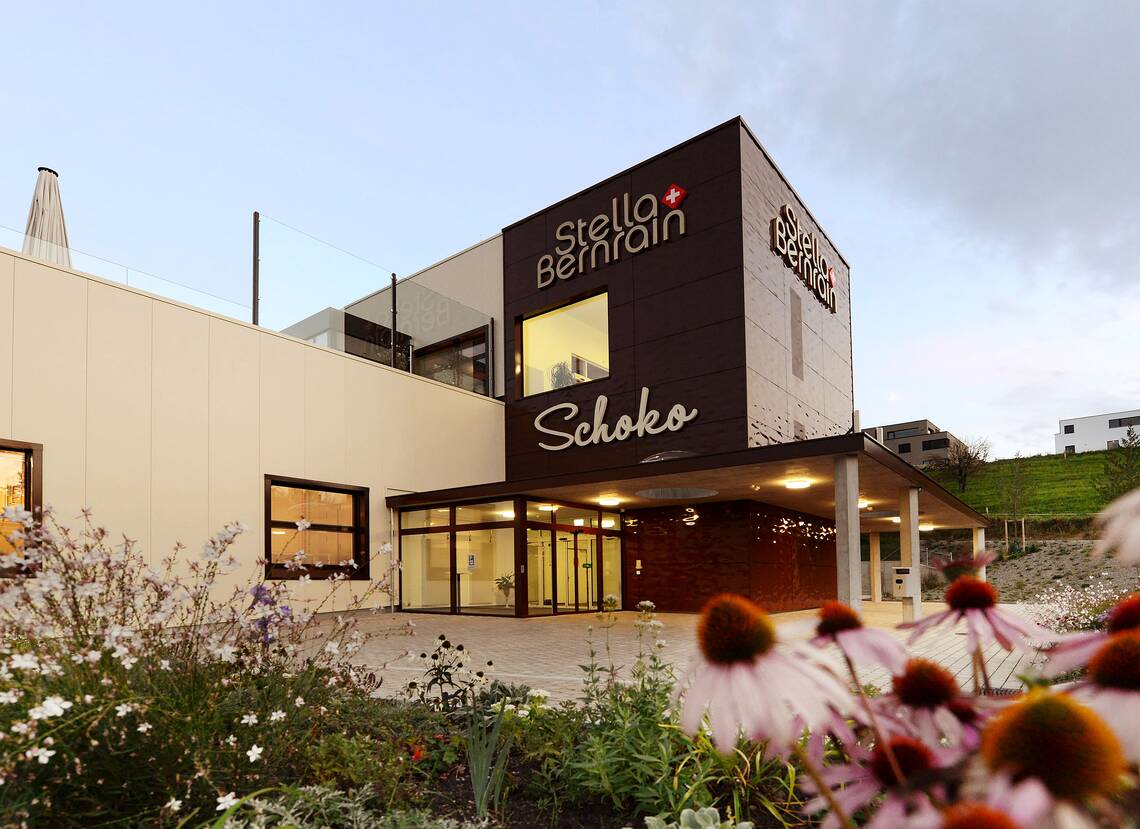 Double the production area and optimised flow of goods. Our new building provides the best production conditions.
New building in Kreuzlingen
Chocolat Stella Bernrain is a top producer of the finest chocolate specialities in small quantities from 1 tonne. At our site in Kreuzlingen, we have invested tens of millions in the modernisation of our production facilities. Thanks to this extension, we have significantly expanded the production area, as well as our production capacity. Together with the flexibility we have gained, this is of particular interest for private label production, which accounts for around 85% of our capacity at Chocolat Stella Bernrain.
Optimised flow of goods
The existing facilities that had evolved over the years had become outdated. The new extension offered the opportunity to optimise the space used for all chocolate production processes. Planning was based on the "form follows function" principle, meaning that the building and the placement of the facilities were defined according to the flow of raw materials and goods. This creates significantly shorter distances and efficient workflows.
Shorter changeover times
The expanded machinery provides the best conditions for the production of private label chocolate specialities. In particular, the much tighter changeover times provide greater flexibility, making the production of small quantities and special editions even more attractive as well as reducing delivery times on request.
The highest hygiene standards
The food industry is characterised by high momentum and mobility. Trusted quality is the most important criterion for successful cooperation. The result of this is that ever higher demands are being placed on hygiene in terms of cleaning, accessibility and standardised certifications. With its new production hall, Chocolat Stella Bernrain is even better equipped to meet all hygiene standards in the future and to produce delicious chocolate specialities.
Committed to sustainability
Chocolat Stella Bernrain has various measures that demonstrate its commitment to greater sustainability. For example, local trades and companies in the region were considered when awarding the building contract. In addition, cooling and heat generation during operation, including energy recovery, is carried out using natural refrigerants and power requirements are covered with electricity from Swiss hydropower. As a result, we offer optimal conditions for the production of organic and Fair Trade chocolate, as well as other chocolate specialities, with particularly high standards regarding quality and environmental impact.
Café Stella together with the SchokoLaden chocolate shop
The extension is also home to the new Café Stella and its SchokoLaden chocolate shop. Here we offer chocolate connoisseurs and visitors fascinating experiences with animated wall projections, the opportunity to mould chocolate yourself, a varied menu, the finest coffee and a large selection of chocolate products for every budget and every taste.